RBS 6 Nations Review: The Italians
RWD is the Social Rugby Resource that embraces the travel and trip culture of Rugby. Travel is a crucial part of the Rugby life we lead. We're supporters of our countries and travel to do so. This brings with it the opportunity to meet other like minded Rugby fans and have a laugh. Or simply, our trips, are to get away from our usual environments, meet new people and bond with our Rugby mates. All without the prying eyes or social constraints that we encounter at home. Going somewhere strange with your team-mates brings us closer together, releases our inner caveman/woman and provides situations where our love of life and sense of humour can flourish.
04 March 2014
The Six Nations - The Italians - Paris & Rome
There was a time when the Italians seriously kicked arse. In those days, though, they were called Romans and the arse kicking had nothing to do with Rugby, although the qualities they displayed in the legions would be useful today. Through superior discipline, organisation, strategy and motivation Rome ruled a vast empire and in a field battle were very, very hard to beat. As Flavius Vegetius Renatus wrote in "The Military Institutions of the Romans", a book for the Emperor Valentinian, " Victory in war does not depend entirely upon numbers or mere courage; only skill and discipline will ensure it." So could the Italians annihilate the French like Caesar and then defend Rome itself from the Picts by building a Hadrians Wall like defense? And what about the Italian fans? And what's it like in Paris and Rome, these soccer dominated cities, on a 6 Nations Rugby day?
Read on for my impressions.
Paris
For images click on the photo below to go to the Rugby World Directory profile in the Rugby World Directory: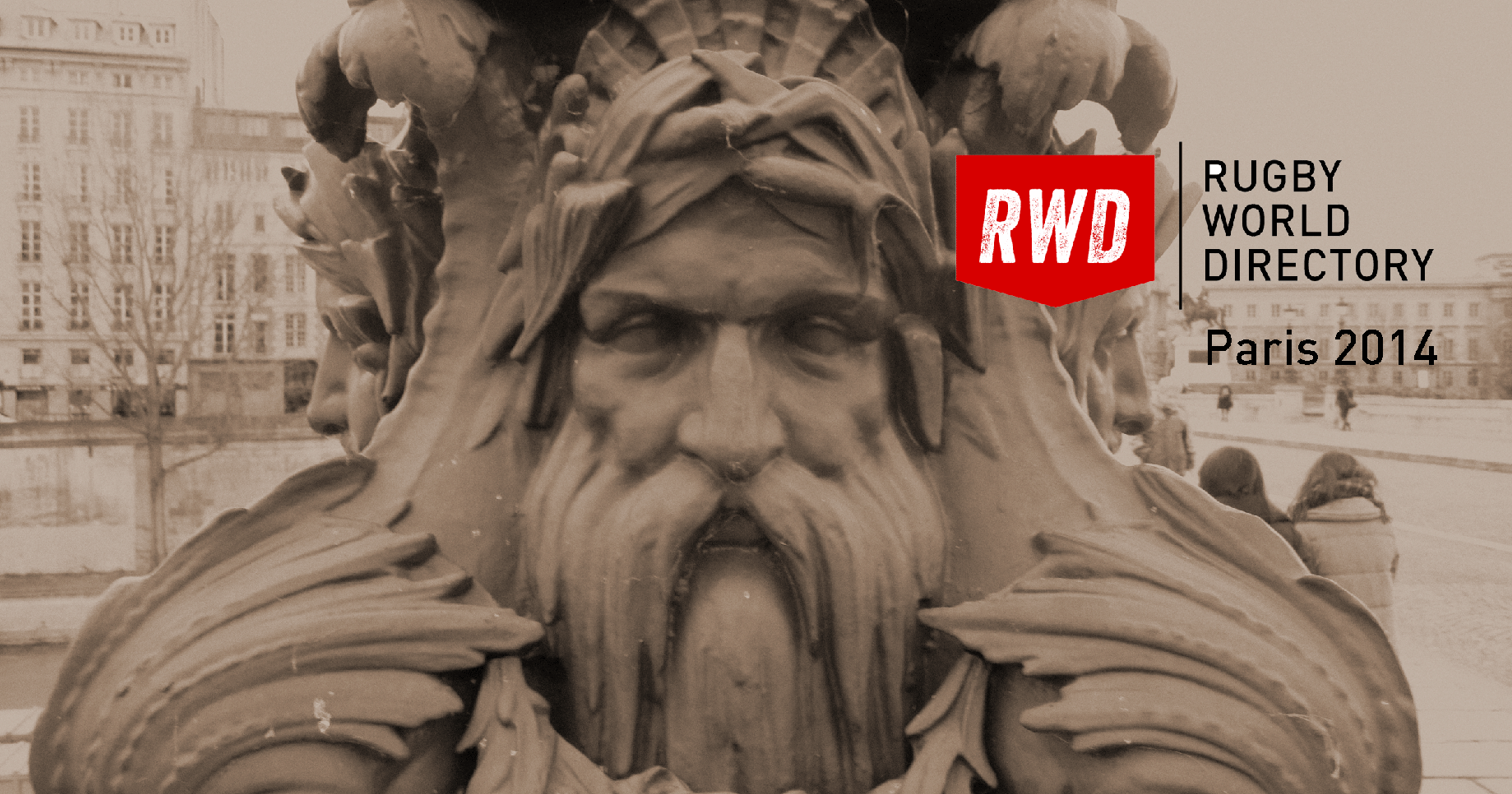 Date/weather:
Sunday, 9th of February. Coldish - around 8 degrees and grey. No rain.
Currency:
The EURO. You can generally withdraw cash from most of the automatic teller machines, however, not all bank cards work in restaurants, hotels or shops. So cash up at every opportunity.
Match:
France v Italy
Accreditation:
Yes. The lovely Isabelle from the French Governing Body understood what RWD is about and why we were attending. We were able to take some great crowd shots and soak up the atmosphere.
Essential Kit:
Cigarettes, Sunglasses, lots of Cash, Serious expression, map of Paris, completed homework on how to use the Metro (underground) & RER (train) systems.
Hotel:
Hotel Notre Dame, 1 Quai Saint Michel. Watch out there are five Hotel Notre Dame. As it happened I accidently booked completely the wrong hotel. On a previous visit I had spotted another Hotel Notre Dame situated in a romantic little alley. The hotel I stayed at was not it. Nevertheless, the hotel I did stay at was situated on the Seine with a view to Notre Dame. The room was clean and had everything you need. The decor is a little unusual. Multi-coloured carpet covers everything and the wall paper is of old masters. The carpet on the floor looked like wooden planks. A wonderful location, though, from which to walk to Notre Dame, the Louvre, Tuileries Gardens, Orangerie, Place de Concord, Musee d'Orsay, the expensive shops and Centre Pompidou. Saint Michel metro stop is just around the corner and it's a direct line down from Gard du Nord. The area directly surrounding the hotel is full of "tourist" restaurants, souvenir shops and other tourist traps. Take the time to walk away from these areas and you'll find plenty of other cafes and restaurants full of Parisians. If you want a true French experience then go for small with a menu in French. However, Paris is a tourist city and most menus will also be in English. Think twice about restaurants with menus in German and Russian. Breakfast at the hotel is a disaster if you are on a low carb diet. It's fresh Croissant, Pain au Chocolat and Pain (bread). But the view over to Notre Dame and decent coffee made committing the sin of carbs worthwhile.
Watch Out For:
Those little dark Gypsy (sorry) looking fellows with Base caps on that call you back as you walk by and hand you a gold ring that they think you've dropped. They'll insist you keep it. Then as you walk away ask you for money. If you refuse they tend to get upset. Just don't accept the ring and you'll be Ok.
Meals:
A little disappointing in this regard on this particular visit. We had lunch (Bistro La Grange) in a typical side walk cafe a small walk in the opposite direction to Notre Dame on a busy street. Only French speakers on the terrace and the owner himself was also the waiter. We ordered sharply and with confidence and things happened quickly. The food was exactly right. Simple French fair without pretention. If in doubt confidently order pate to start followed by steak frites (beef filet steak with chips). For dinner we did the same as lunch (Cafe Bords de Seine). We walked about and found something that felt right. However, we weren't blown away by any of the places we ate at. Paris is so full of restaurants that you will be able to find something that you like. On the non-Rugby day of the trip we had a beautiful lunch in the main restaurant of the Musee d'Orsay. Take your partner there and she'll or he will feel like a Princess or Prince.
So use RWD to contact some Parisian Rugby players and get their recommendations. Perhaps David from No Scrum No win, a new apparel brand for forwards, can give you some tips. Find No Scrum No Win in RWD too!
Drinks:
A few beers at the Stadium as it was a Sunday and Paris was sleepy.
Travel:
I travelled to Paris from Rotterdam on the Thalys. From Rotterdam or Amsterdam this is easy and fast. I can recommend to any of you to add a day or more onto the trip and go to Amsterdam first. Sunday morning, get up early and jump on the Thalys. A few hours later you'll be at Gare du Nord and in the thick of it. The train has a bar so you can keep up the momentum. Have a quick lunch then head out to the match. From Gare du Nord you can take the metro anywhere. We had a short RER (train) ride with only three stops direct to Saint Michel.
To Stade Francais you take either of two RER (train) lines. Prepare a little before you show up at the ticket office and know where you're going because the employees are only slightly helpful, don't really have any patience and no English. Use the automatic ticket machines to avoid all contact with these people. I advise to leave plenty of time to get to the match. Have beers at the stadium. You really don't want the stress of trying to catch the RER with limited time and not really knowing where to go.
Beware on the return trip. The stadium empties out straight onto the main RER line that runs through Gard du Nord. You'll encounter an endless sea of people streaming towards and waiting at the RER station gates. Have no fear. This is routine and every 5 to 10 minutes the gates open to let in huge numbers of people that are efficiently whisked away. But it remains daunting as you'll be packed in. Total time to walk from the stadium and get onto a train was about 30 minutes.
In Paris walk around and limit what you want to see, if you're going to do touristy things. Walking helps you soak up the atmosphere and the metro, although incredible and efficient, doesn't show you Paris.
Stadium:
Stade Francais is located in an desolate commercial district come industrial waste land. Quite an unpleasant location without atmosphere. There are bars and food stalls around the stadium and music which somewhat adds atmosphere. However, there is none of the charm of Twickenham, Cardiff or Edinburgh. Once inside though it's an impressive arena.
The Fans:
Well there were certainly no Roman Legions overrunning Paris and a Rugby related buzz was entirely absent. Where were the Italians? I think that a Sunday match generally frees up lots of seats for the locals. Anyway, lunching and walking about was a pure tourist activity as opposed to some pre-game amusement with the Rugby crowd adding atmosphere and a build up of excitement and anticipation. At the stadium there was a smug sense from the French fans that this was going to be an easy win. Only at the stadium did they seem to remember to get their colours on by purchasing scarves and flags. Only a few fans with Chickens on their heads which was a shame. There was little to no Italian presence which is annoying as this Review is about them too. But the French fans, of both genders, were enjoying themselves, happy and getting stuck into their beers with old rugby mates and girlfriends catching up and having a laugh. Also plenty of kids adding their excitement to the event.
Inside the atmosphere was great. Eventually the French got their flags out and the anthem was sung with gusto. Funnily enough the French team was encouraged by their fans with trumpet calls followed by shouts of "Ole". Unusual of course as this is Spanish. However, this appears to be a trend as I heard this on the weekend during a South African Super Rugby match. A band played continually and there were lots of provincial clubs who had made the trip and were wearing their club shirts to show unity. At times when the match had a bit of a lull a Mexican Wave was set in that made it round the stadium three times. The French love their running rugby and if there was any hint of a bit of open play the crowd went completely ballistic. Roaring their approval and hope for a try.
The younger French Rugby people are learning more and more that it is handy, beneficial and fun to speak English. In time it will be more and more fun bantering with the French.
Conclusion:
It was clearly a Sunday match between teams that didn't seem to inspire excitement in either groups of fans. The French at the stadium had a great time and were very happy, yet it lacked a tension that a more threatening opponent brings. Unfortunately there is nothing I can say about the Italian fans away from home. They stayed away, no doubt, as the game was on a Sunday. So on this day Vercingtorix serously kicked Caesars arse.
I found it an ideal trip to do with your partner. Take a Monday off work and combine a Rugby international with some nice non-rugby Romance. The Hotel was extremely affordable too as Sunday is usually a checkout day. With your Rugby mates combine it with a day or two in Amsterdam beforehand. Fly into Amsterdam on a Friday afternoon, "do" Amsterdam Friday night and Saturday, catch the early train to Paris Sunday (07:35) and be in Paris by 12:00. Lunch, match and then head to Saint Gemain des Pres where the Rugby pubs are. For example the Frog & Princess. Spend Monday walking about and then fly out of Paris to wherever you're from in the evening.
Oh, the French won by the way.
Rome
For images click on the photo below to go to the Rugby World Directory profile in the Rugby World Directory: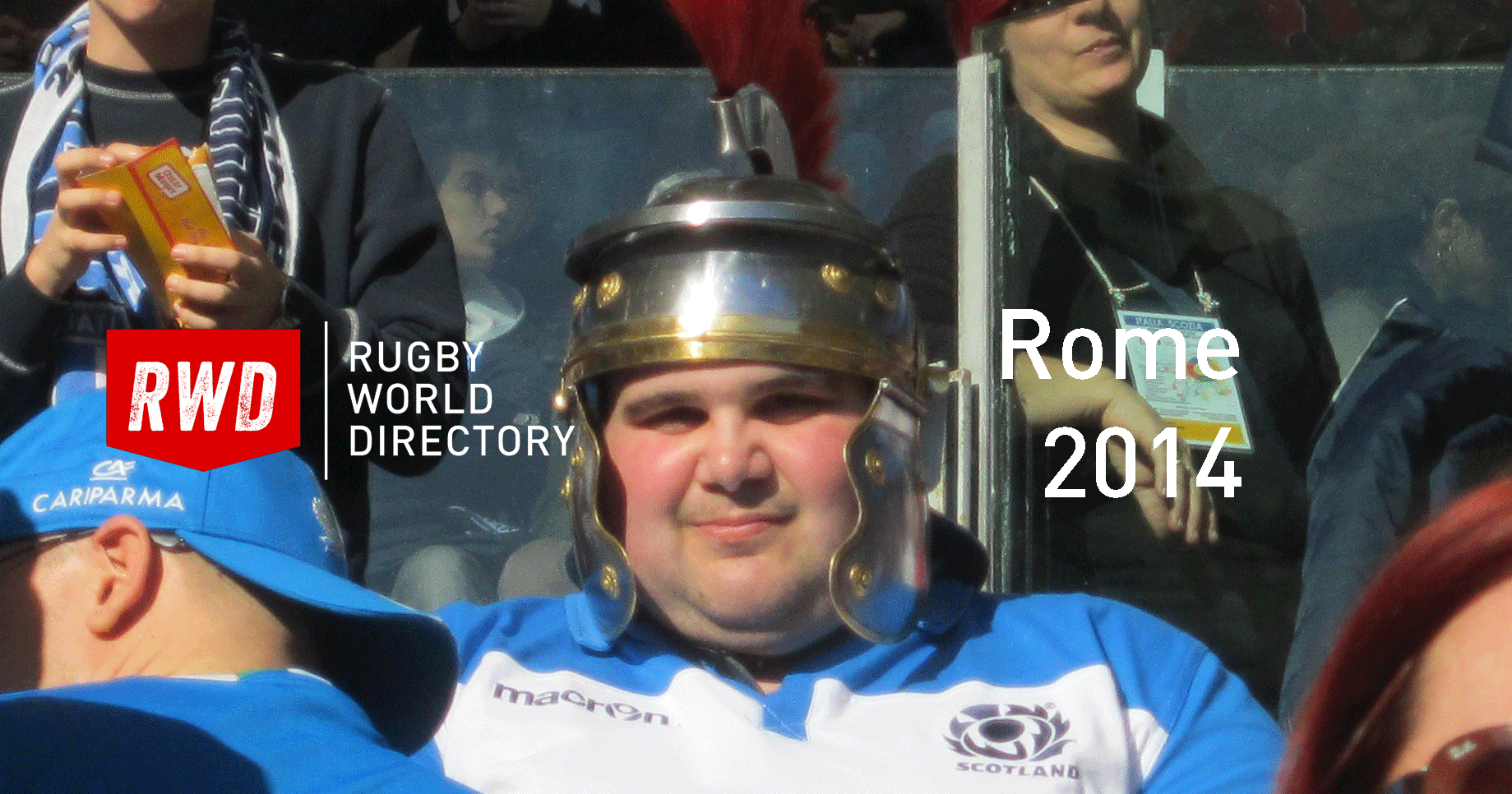 Dates/weather:
Friday 21st through Sunday 23rd of February. Beautifully sunny and about 18 degrees every day. Perfect.
Currency:
The EURO. You can generally withdraw cash from most of the automatic teller machines, however, not all bank cards work in restaurants, hotels or shops. So cash up at every opportunity.
Match:
Italy v Scotland
Accreditation:
No. The cranky Italian computer said "No", grabbed it's crotch then wandered off to pluck its eyebrows.
Kit:
Cigarettes, Sunglasses, lots of Cash, Serious expression, map of Rome, deep desire to look at rubble, ruins and walk in Caesars footsteps, a Rugby mate that is Italian and speaks Italian fluently.
Hotel:
Relais le Clarisse, 20 Via Cardinale Merry del Val, Trastevere, Rome. This hotel was perfect. We were with a bunch of old rugby mates and we all had really comfortable beds in various suites and rooms. Clean and stylish. We even had an enormous Jacuzzi in our bathroom. The location was outstanding. Tucked into a side street off the main drag running through Trastevere. Trastevere has an impoverished style about it. It is bohemian and student filled, with an arty ghetto feel to it. You'll get bored with all the beggars asking for cigarettes and money though. Despite this, it really is charming and away from the overtly touristy areas of Rome. It's an easy walk to the main tourist attractions of the Imperial Forum, Palentine Hill and Colosseum. Actually if you have a bit of grit the whole of Rome is easy walking distance. So wander to the Spanish Steps, Castel Saint Angelo and the Vatican.
Meals & Drinks:
On Friday the morning group extensively toured the Forum, Palentine Hill and Colosseum and we met up with the rest of the trip group at five in the afternoon. At the entrance to the Colosseum. What a meeting place. Certainly beats McDonals somewhere. Just behind, on the hill we had our first beers in the Italian sunshine at La Biga, overlooking the Colosseum. It's expensive. Accept it. You're in Rome. Then the boys got hungry and it was time to eat and prepare for the evenings 6 Nations match. Unfortunately we again piled into a taxi which took the long way round to our destination the Abbey Theartre Irish Pub. Incidentally the Abbey was recommended by Marco of Don't Stop me Travel of Rome. Contact them through RWD for all your Roman travel needs. Opposite was, according to the taxi driver, Romes best pizza restaurant. We ate some decent pizza (I don't think it was the best in Rome and so I'm not going to give it a plug) and then ducked into the Abbey. It was heaving. There was a mix of local rugby players, Scots men and women over for the 6 Nations and even some random tourists who just happened to like Rugby. Every room was packed to the rafters but there were screens everywhere so we all had a good view. The food looked good too! Then, for want of a better plan, we headed back to Trastevere and bar hoped until we found a terrace where we settled in for the night. No idea what it was called. On the square a sea of Italian youth stood around drinking out of plastic bags. It's a thing apparently.
The following day, match day, we lunched at a place called Grazia & Graziella. It's located in the middle of Trastevere, on the main walking street and a bastard to get to with a taxi. So walk for goodness sake. The food is good but our pizzas took too long and we had to skip desert to make the match on time. The staff were overly friendly and trying to be super cool. A trend these days. If you don't go you won't have missed anything. We didn't have time to drink some beers and soak up the atmosphere at the stadium, however, afterwards we went to the Bulldog Inn. It is an ex-pat place and not touristy. Every other Irish Pub was packed out by rampant Scots men and women. The Bulldog Inn was quiet when we got there then filled up for the other 6 Nations games. Big screens and nice atmosphere. We drank Spritz here - Aperol with Prosecco.
On Sunday we had lunch at my favourite location, in so far as I know Rome, Obika Mozzarella Bar on the Campo De Fiori square. It's stylish, well located, reasonably priced, has a great wine list, good staff, table cloths and way more than just mozzarella on the menu. The smoked mozzarella tastes truly as if someone dropped the mozzarrella into an ashtray. Everything else is delicious. Go there!
Travel:
There are plenty of airlines and ways to book flights to Rome. I booked through RWD & found that the cheapest flights were, of course, those with the most awkward times. So I flew out of Amsterdam at 07:30 on the Friday and returned at 21:00 on Sunday night. From the airport we jumped into taxis to save time. This was affordable as we shared the expense. However, trains run from the airport straight into the heart of Rome. The automatic ticketing machines can be frustrating though but not as annoying as the ticket clerks.
Again, I'm a city walker so, as Rome is really just an oversized Italian village I recommend that you walk from one tourist attraction to the next. There are horse buggies and hop on hop off buses too. Taxis are plentiful but often they don't know the best route or take longer than walking due to the crazy traffic conditions. To and from the Stadium we jumped into taxis as our trip organiser insisted on this. There are plenty of buses that head to the Stadium on game day. These are packed though and the return journey into Rome looked hellish as we drove by in our taxis.
Stadium:
Rome is actually a lot less imposing than Paris. Perhaps because half of what you see is a ruin and because the Vatican doesn't allow any buildings more impressive than itself. It also seems that the Romans still have a soft spot for Mussolini, which to our Dutch politically correct ears was shocking. But this is evident when you arrive at Stadio Olimpico. As you cross the bridge over the Tiber and head to the stadium you see an enormous obelisk standing proudly. As you get closer you can see the name Mussolini engraved from top to bottom. Stadio Olimpico is situated to the North of Rome in the Foro Italico, the Olympic sports complex commissioned by Mussolini. You'll be astounded by the athletic track which features ancient Roman style seating and is surrounded by a multitude of statues of naked impossibly perfect athletes. In the middle is a Rugby pitch which is very cool. Around the stadium itself there were plenty of bars and food stalls which were heaving. The sunny weather really added to the atmosphere and kept the fans outside.
Otherwise, it's an impressive stadium actually designed for soccer. It houses plenty of people and they were out in numbers. The gate system was a little confusing. The tickets were in Italian and it was unclear which number on the ticket was for what. The queues were pretty intense and everyone seemed to want to go in at the last minute. To get in you hold the barcode of you ticket under a reader at the gate. This doesn't work quite often which causes delays. Inside there was a powerful atmosphere and there were vendors walking up and down selling drinks including beer.
The Fans:
Quite simply the Scottish fans stole the show. We'd checked in and found a rustic terrace café with sunlight. It was ten in the morning and after a couple of glasses of wine in the sun to acclimatize we headed off on our tourist activities. As we walked through Trastevere on our way to the Imperial Forum and Colosseum we rounded a corner and had our first kilt sighting. Then another kilt and another and another. It was an avalanche of kilt wearing Picts storming Rome. The Scots were everywhere. They were in a great mood and having classic rugby fun despite being a little perturbed by the extreme sunshine (for Scottish senses). There were couples, girls only groups, guy only groups, mixed groups, old Scots, young Scots and clubs of Scots. All in kilts and keen to meet and connect with the locals. Now this was a 6 Nations weekend!!!!
It wasn't until the stadium that the Italian fans finally made an appearance. There was plenty of Italian colours, flags and banners. Throughout the heaving pre-match crowds you saw Scots meeting Italians, shaking hands, having a laugh and taking group photos. It was a Rugby festival with the friendly convivial spirit that Rugby is renowned for. In the stadium the fans were seriously loud and passionate. They bellowed out the anthem and many of them made what to me looked like the Nazi salute during and after the anthem. The Italians were otherwise beside themselves every time Italy scored. Young blokes actually kissing their Rugby mates. Here was real and true Rugby spirit. However, as the game wore on it was evident that the Italians couldn't hold on. The Scots were getting better and better, although they should've put Italy away in a much more convincing manner than a drop goal in the dying seconds. This stunned the Italian fans into silence allowing the Scots to raise their voices.
Conclusion:
Rome is a great Rugby weekend for culturally inclined smaller Rugby groups. Also if you'd like to take your partner with you then this is an excellent 6 Nations destination. The night life or pub culture here is totally unlike anything you'll see in Cardiff, Twickenham, Dublin or Edinburgh. Or even the St Germain rugby pub district. It's about strolling, seeing and being seen, enjoying a terrace and not going out on a beer binge. It's possible to do this of course but you'll be packed into the more well known Irish pubs around town. Gosh, you can get that at home! However, with a match on a Saturday I'm sure you'll see plenty of like minded people about supporting their country. To meet the Italians you'll have to wait until you reach the Stadium. To that end, get to the Stadium early, have a few beers and mingle. The Italian fans are enthusiastic and fresh when it comes to their love of Rugby. However, they were no match for the rampaging Scots who were everywhere all weekend, having fun and being thoroughly, almost surprisingly well mannered. Could it be that in their kilts they also felt that they were ambassadors for their country?